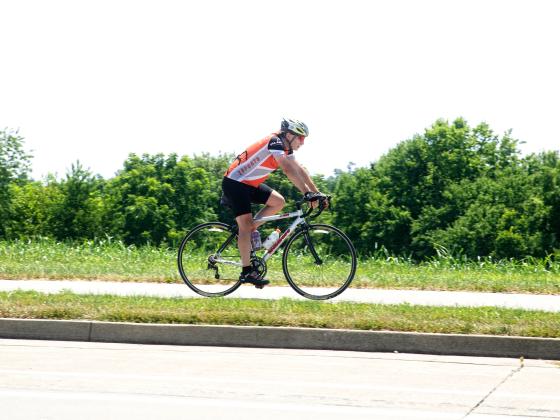 Formerly a prominent horse farm, the735-acre park-like setting of Coldstream Research Campus is reminiscent of the days when Thoroughbreds grazed in the fields. Coldstream's abundant green spaces, including a 225-acre city park, provide a wonderful backdrop for lunchtime walks, picnics and outdoor meetings.
Cyclists and runners enjoy the 12-mile paved running/biking Legacy Trail that runs through Coldstream. The trail connects downtown Lexington to the Kentucky Horse Park, located 4 miles north of Coldstream on Iron Works Pike. The section of the Legacy Trail that runs alongside the Cane Run Creek is made of pervious concrete to prevent stormwater from running off directly into the creek.  Lexington Parks & Recreation schedules a variety of races and events at Coldstream and many people use the 10-acre, fully fenced dog park.
Coldstream is conveniently located off I-75/I-64 at Exit 115 near restaurants, hotels, meeting and convention facilities. The Embassy Suites Hotel located on the Coldstream Research Campus offers 230 suites, a conference center, and the Paddock Bar and Grill. Directly across the street is the Marriott Griffin Gate Golf Resort and Spa.  Also, close by are shopping at Hamburg Place, attractions and events at the Kentucky Horse Park, and the historic Keeneland Race Course.
Coldstream is the gateway to downtown Lexington and the University of Kentucky. Entertainment, shopping, art galleries, and dining opportunities abound as well as a full schedule of events at Rupp Arena and the Lexington Convention Center, the Lexington Opera House, Kentucky Theater, and the University of Kentucky Singletary Center for the Arts. State parks, historic sites, and plenty of outdoor recreation areas surround Lexington. There are events, attractions, and activities for every member of the family in the Horse Capital of the World.
Downtown Lexington Corporation
Lexington Visitors & Convention Bureau
Lexington Philharmonic Orchestra
UK Singletary Center for the Arts
University of Kentucky Athletics